"And about those green jobs…"
Though they saved the tax credits, state university officials didn't show the same ambition to save the new jobs promised by Kitzhaber.
After the Redco debacle, the university system quickly hired its third developer in the spring of 2012.  SolarCity was no solar rookie. It had been around for five years and billed itself as the largest installer of solar systems in the world.
Under the new contract, SolarCity would do all the engineering, site prep and installation for Oregon. The company would own the project, selling power to the universities to recoup its investment.
Their partner was another seeming solid name in green energy - SolarWorld. The company arrived in Hillsboro in 2007, investing hundreds of millions of dollars in a state-of-the-art solar panel factory. Potential new jobs for the company were part of the lure of the university project.
Kitzhaber, taken with the buy-local strategy, authorized a $60,000 state study to assess the project's impact on the local economy. The study concluded that buying the solar panels in Oregon would generate $10 million in local wages.
It was common knowledge in the solar industry, though, that SolarCity and SolarWorld were bitter rivals in an international trade war.
SolarWorld was building solar panels in the U.S. and took the lead in defending American manufacturing from perceived illegal trade by the Chinese. SolarWorld complained to U.S. and European Union entities that Chinese companies were dumping solar panels in the U.S. below cost to kill competitors.
SolarCity, meanwhile, depended on those low-cost panels for its own business success. Any effort to stanch their flow into the U.S. was a threat. SolarCity and others in the industry mobilized against SolarWorld.
The U.S. Commerce Department stunned the industry when it sided with SolarWorld and imposed stiff tariffs on solar panels from China. It was the first of 10 such wins for SolarWorld, and came just two months after SolarCity started working on the Oregon project.
Despite such victories, SolarWorld struggled in 2011-2012. The solar panel business had become a bloodbath as Chinese firms dominated the industry. At least 14 American solar companies failed or shuttered manufacturing plants.
The company's $5 million share of the university project was a rare bright spot.
"We were really excited," said Mukesh Dulani, CEO of SolarWorld Oregon. "A five-megawatt project like this was crucial to us. We weren't producing big volumes at the time."
SolarCity quickly took the shine off the contract, telling state officials that they were troubled by SolarWorld's shaky financial condition. Shain, the state's project consultant, echoed that view.
"Deep concerns in the financial community about their liquidity are creating very difficult project finance issues," he said in a Feb. 26, 2013, email to Maureen Bock, the Energy Department incentives program manager.
Industry analysts at the time predicted SolarWorld was headed for insolvency and questioned its decision to manufacture solar panels in the West.
SolarCity also claimed SolarWorld was backing away from its product warranties and wanted an additional $250,000.
Dulani vigorously denied his company demanded revised terms or that it was stepping away from its warranties.
Faced with the threat of cancellation, SolarWorld beseeched state officials to intervene to keep the contract alive.
"This is a travesty and there truly is no good reasons for this, contrary to what you may have been told by SolarCity," said SolarWorld salesman Matthew Lind in an April 2013 email to OSU Sustainability Director Brandon Trelstad. "We have the industry-leading premium product coming out of Hillsboro and we can meet the price that SolarCity wants to pay, delivery capacity, volume, timing, etc."
OSU did nothing.
"There was a lot of tension between the two companies," Trelstad said in an interview. "I expressed interest in staying out of it. I didn't think it was OSU's place."
Trelstad wasn't the only state official in the loop. Managers of the Energy Department's incentive programs, including Anthony Buckley, Bock and Elias, also knew SolarWorld was losing the contract.
There is no record anyone in either agency lifted a finger to help.
Layoffs followed at SolarWorld.
"We had to make some hard decisions," Dulani said. "You have to do that when you lose five megawatts of production. This affected our people and their families. SolarCity screwed us."
Firing SolarWorld was just business, said Will Craven, SolarCity spokesman.
But if workers in Hillsboro weren't going to make the state's panels, who would?
Shain assured state officials that SolarCity had found "alternative modules of U.S. manufacture, and very possible Oregon manufacture."
SolarCity's alternative: Prison labor.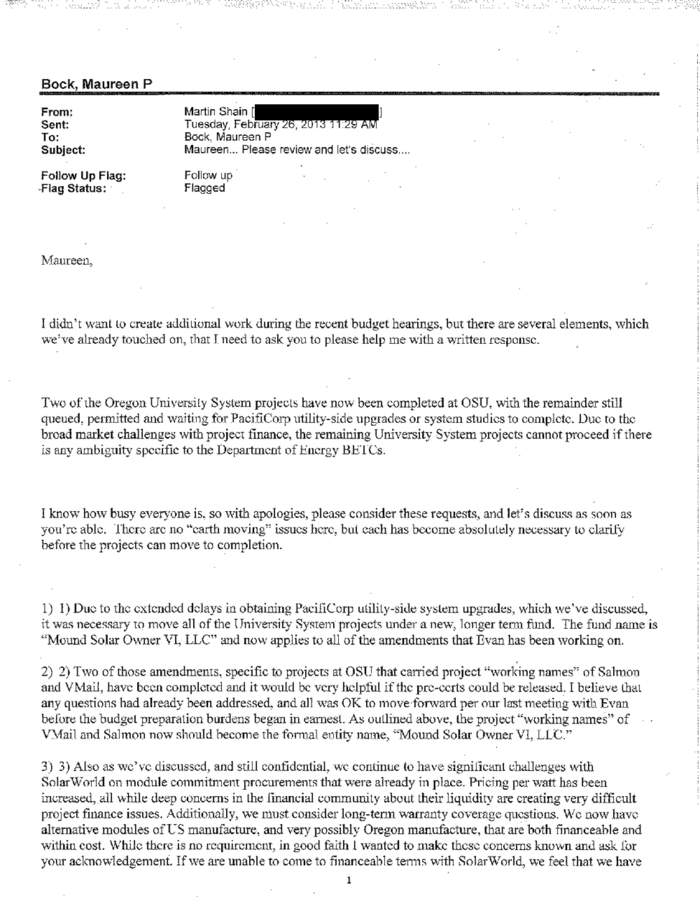 What project consultant Shain doesn't tell state officials is that the alternative modules would be assembled by convicts at the federal prison in Sheridan making 93 cents an hour.
Under a subcontractor, Norcross, Georgia-based Suniva, the panel work went behind the walls at the Federal Correctional Institute in Sheridan. Inmates paid 93 cents an hour assembled the panels. That was in contrast to SolarWorld factory pay — $11 an hour to start.
Craven acknowledged that using inmate labor "may not have been in the spirit" of the tax credit program. He said state officials knew prisoners were involved.
State officials said they were unaware of the inmate component until questioned recently by The Oregonian/OregonLive.
"They used inmates?" Simonton asked. "That's unfortunate."
Authors:
- Ted Sickinger
503-221-8505; @tedsickinger
- Jeff Manning
503-294-7606; @JeffmanningOre