Concerns about the pace of vehicle production at Tesla Motors hit the automaker's shares as questions swirled about the ramifications of a Tesla Model S owner who died while using the car's autopilot.
As investors struggle to assess the implications of the crash for self-driving cars, Fortune magazine published a story in which Tesla CEO Elon Musk defended the company's decision not to disclose the May 7 crash to shareholders until Thursday, a day after auto-safety regulators told the company they had begun an investigation.
"Seems pretty material to me," Fortune editor Alan Murray tweeted Tuesday morning, with a link to the magazine's online article in which Musk is quoted saying in an email that the matter was "not material" to Tesla shareholders.
Mr Musk retorted to Mr Murray on Twitter: "Yes, it was material to you – BS article increased your advertising revenue. Just wasn't material to TSLA, as shown by market."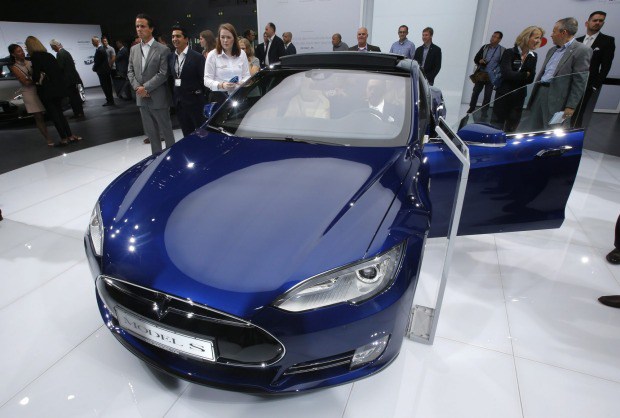 Skittish investors drove down the price of Tesla stock 1.2 per cent Tuesday to close at $US213.98 on the first day of trading after the Silicon Valley automaker said Sunday that it had missed production forecasts for the second quarter. Earlier in the session the stock traded as low as $US208.
The Palo Alto, California-based company delivered 14,370 vehicles during the second quarter, including 9,745 Model S sedans and 4,625 of Model X crossovers. That was about 15 per cent fewer than the 17,000 vehicles it predicted in May.
Tesla is under pressure to demonstrate that it can ramp up production quickly to meet its own goal of making 500,000 vehicles in 2018, approximately 10 times its 2015 full-year output. That's when the company will be manufacturing the Model 3 sedan, its first mass-market electric vehicle.
Crash fallout
Meanwhile, the automaker is also grappling with the fallout of last week's revelation that a Model S owner who had activated the vehicle's automated highway steering system was killed when his vehicle slammed into a truck.
Perhaps of more concern to investors is that Tesla is halting manufacturing. The automaker's "up time" for production of the all-new Model X crossover – a figure used to gauge how often the assembly line was running – is as low as 50 per cent, Deutsche Bank analyst Rod Lache said in a research note.
"Suppliers continue to suggest Tesla has had difficulty maintaining steady production of Model X," Mr Lache said. "This is highly unusual for an automaker, considering this model was launched in" the third quarter.
Given Tesla's mass-market ambitions, that pace will need to quicken. The company is currently aiming to produce 2,400 vehicles per week in the fourth quarter, up from 2,000 per week at the end of the second quarter.
At that rate, Tesla will make 79,000 vehicles in 2016, missing its forecast of 80,000 to 90,000, according to Deutsche Bank. Even that pace will have to increase six-fold to meet its 2018 targets.
S&P Global Market Intelligence analyst Efraim Levy lauded the company for pushing the limits but said the consequence is occasional misses.
"I didn't and I still don't expect them to meet all their targets for Model 3 production," Mr Levy said. "Their track record is too much over-promise and under-deliver in terms of specific targets."
Author: Nathan Bomey
Follow us: @FinancialReview on Twitter | financialreview on Facebook