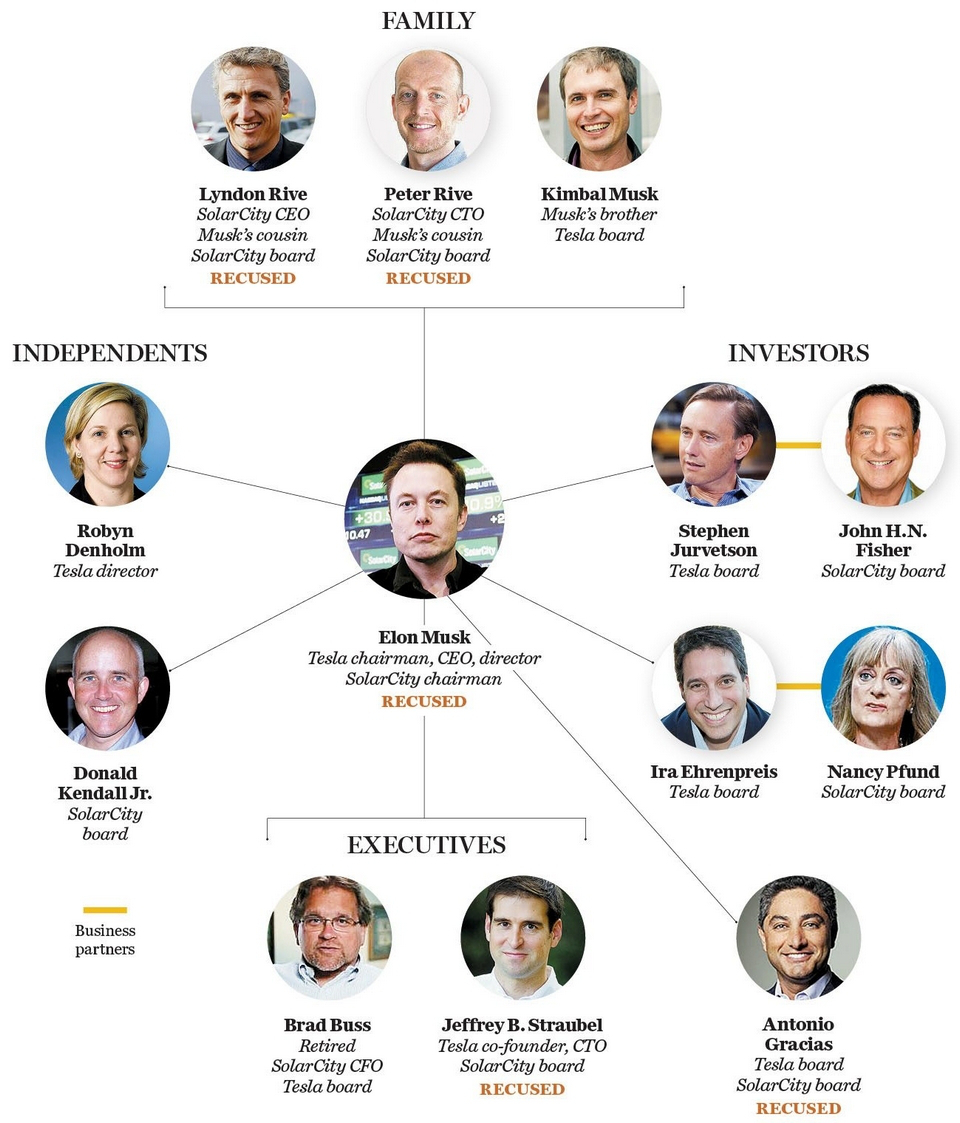 SolarCity and Tesla Motors' boards of directors are close.
Critics say they are too close to be truly objective about Tesla's $2.8 billion bid to buy SolarCity.
A majority of SolarCity's directors already have recused themselves from making decisions about the Tesla bid. So entangled are the ties between the two companies that SolarCity's special board committee formed to review the Tesla bid has only two members. A Tesla investor, CtW Investment Group, has urged that company to appoint two "genuinely independent directors" to its board to form its own special committee to review the proposed bid.
At the center of the overlapping boards is Elon Musk, the high-profile entrepreneur who founded and runs the electric vehicle maker and is chairman of SolarCity, the solar energy systems installer run by his cousins Lyndon and Peter Rive. Musk is the chairman of and biggest investor in both companies.
The close ties are raising questions from investors in both companies.
SolarCity shareholders wonder if Tesla's $2.8 billion bid is the best possible offer for the company.
Tesla shareholders are wary that the bid for SolarCity is a bailout of a company that is losing large sums of money and constantly needs to raise billions of dollars in new capital.
"There has been an awful lot of cross-pollination with the boards," said Colin Rusch, an analyst at Oppenheimer & Co.
Musk has defended the process as being above-board.
"We've tried to do this in a way that's as fair as possible and really going beyond what's legally required to make it not just legally correct, but morally correct," Musk said during a conference call after the deal was announced two weeks ago. He said support for the deal was unanimous on both boards of directors.
Musk also has said he would let the fate of the deal be determined by a majority vote of "disinterested" shareholders at both Tesla and SolarCity. That would exclude himself, as he owns 19 percent of Tesla's stock and 22 percent of SolarCity's.
"Despite the recusals from voting and formation of the special committee, many are still frustrated by the board discussions that have already taken place, with interested parties having the ability to influence the discussions," said Patrick Jobin, a CreditSuisse analyst, in a report.
"We are not accusing either party of malfeasance, but rather, point to the nearly impossible task of having a board discussion that is not influenced by interested parties," Jobin wrote.
Musk's financial ties to SolarCity go beyond his stock holdings.
Musk has taken out $486 million in personal loans to buy stock or bonds issued by Tesla and SolarCity. He has secured those loans with 9.4 million shares of Tesla stock and 4 million SolarCity shares, according to filings with the Securities and Exchange Commission. That has raised concerns from some analysts that, if Tesla's stock were to fall sharply, Musk might have to put up even more shares as collateral or sell some of his unpledged shares to repay the loans. That could further undermine Tesla's shares.
Another Musk company, rocket manufacturer Space X, has purchased $255 million of SolarCity's bonds since the end of 2014, according to SEC filings.
"We expect a robust shareholder fight over this acquisition centered on corporate governance," Rusch said in a report.
In all, six of Tesla's seven board members have ties to SolarCity, said Dieter Waizenegger, the executive director of CtW Investment Group.
Here's a closer look the ties between Tesla and SolarCity's boards of directors.
Tesla's board
Elon Musk – The renowned entrepreneur is the founder, chairman and CEO of Tesla. He is also its biggest shareholder, owning 19.4 percent of Tesla's stock. Musk also helped come up with the idea behind SolarCity, where he is also is the chairman.
Musk is also SolarCity's biggest individual shareholder, owning 22.5 percent of the company's stock. Recused.
Kimbal Musk – Elon Musk's brother and a director at another Musk company, rocket manufacturer SpaceX; he is also the CEO of Medium, Inc, an internet software company based in Boulder, Colo.
Antonio Gracias – Tesla's lead independent director is the CEO of private-equity firm Valor Management Corp. Gracias is also an investor and a director at SolarCity. Recused.
Stephen Jurvetson – A managing director at Draper Fisher Jurvetson, a Silicon Valley venture capital firm that has a wide range of investments in the energy and clean technology sectors, Jurvetson is also a director at SpaceX, where Draper Fisher Jurvetson is a significant stockholder. His firm is also a significant investor in SolarCity, where his partner, John H.N. Fisher, sits on the board of directors.
Ira Ehrenpreis – General partner with Technology Partners since 1996, Ehrenpreis leads the firm's Cleantech investment practice. He is also a managing partner at venture capital firm DBL Partners, which has investments in both SolarCity and SpaceX. Ehrenpreis' partner at DBL, Nancy E. Pfund, is a SolarCity director.
Brad W. Buss – A Tesla director since 2009, Buss was also SolarCity's chief financial officer from August 2014 until his retirement in February.
Robyn M. Denholm – A Tesla director since 2014, Denholm was executive vice president and chief financial and operations officer of networking equipment maker Juniper Networks until February 2016.
SolarCity's board
Elon Musk – The idea behind SolarCity grew out of a discussion Musk had with his cousins Lyndon and Peter Rive during a trip to the Burning Man event in Nevada. Musk is SolarCity's chairman.
Tesla sells storage batteries to SolarCity for use in its solar energy systems – a relationship expected to yield $44 million in sales this year, according to SEC filings. Telsa also has agreements to pay $12.8 million to buy power from solar arrays at three SolarCity facilities. Recused.
Lyndon Rive – Musk's cousin and the co-founder and CEO of SolarCity has said he is "very excited" about a SolarCity-Tesla deal. Recused.
Peter Rive – Musk's cousin and a SolarCity co-founder, Rive is Lyndon Rive's brother and SolarCity's chief technology officer. Recused.
John H.N. Fisher – A managing director at Draper Fisher Jurvetson, which has significant investments in Tesla, SolarCity and SpaceX, Fisher has a business partner, Stephen Jurvetson, who is on the board of directors at Tesla and SpaceX.
Antonio Gracias – The SolarCity and Tesla director is a also director at and an investor in SpaceX. Recused.
Nancy E. Pfund – The founder and managing partner at San Francisco venture capital firm DBL Investors, Pfund has been on SolarCity's board since 2007. She was an observer at Tesla's board from 2006 until the company's June 2010 initial public stock offering. Her partner, Ira Ehrenpreis, is on Tesla's board.
Jeffrey B. Straubel – A SolarCity board member since 2006, Straubel is Tesla's co-founder and chief technology officer. Recused.
Donald R. Kendall Jr. – A SolarCity board member since 2012, Kendall is CEO of a private investment firm, Five Stone Capital. He and Pfund make up SolarCity's two-member board committee evaluating the Tesla merger proposal.
Twitter: @CFTR 
YouTube: Citizens for the Republic
Facebook: @CitizensForTheRepublic
Website: CFTR.org